Light Up Your Summer Nights with Brookgreen Gardens event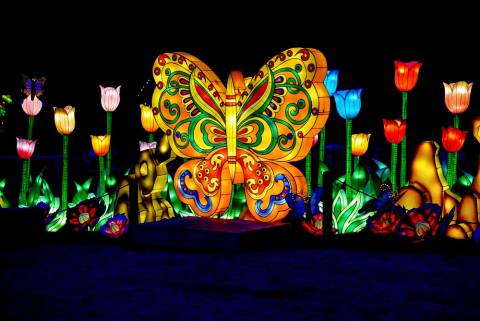 The display is open from 7-10 p.m. each Wednesday through Saturday until Aug. 21. See the garden come to life with nine glass and light installations. In addition to the displays, there are also lights in the trees for a magical feel. 
The exhibit is one of those sights that prompts "oohs" and "aahs," with nine glass and light installations throughout the Gardens. After all, this is the same talented Brookgreen Gardens team that creates "Nights of a Thousand Candles" during the Christmas season. 
In addition to the spectacular lights, each evening of the show includes live music with a piano player performing in the Rosen Galleries. While at the gallery, experience the National Sculpture Society's 88th Annual Awards Exhibition, on display through Aug. 22, featuring the work of American masters alongside rising stars. 
For the first time during Summer Lights, the Brown Sculpture Court will be open at night.  The Court is a small museum within the Gardens that contacts a permanent exhibition of small sculptures and white marble pieces.
During the day, some glass installations are visible. But at night, this place looks spectacular. 
Brookgreen Gardens celebrates its 90th anniversary from May 2021 through June 2022, with a lineup of special events. See the Wild Bees exhibition now on display at the Noble Gallery at the Rainey Sculpture Pavilion. Wild Bees features a collection of stunning macro photographs depicting the world of America's native bees. It's open during the day, as well as during Art by Night.
It's a long, meandering walk, which means a relaxing way to enjoy a beautiful night on the Hammock Coast.
The cost for Art by Night is $20 per adult, $12 per child. Order your tickets online for a quick check-in.