Hot Spots for Fishing on the South Carolina Beaches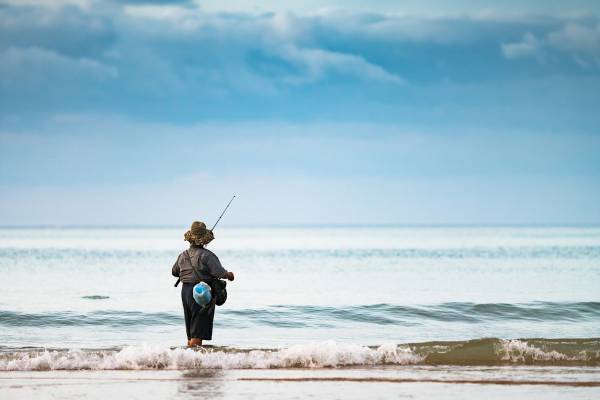 South Carolina's Hammock Coast is an angler's playground, with fresh and saltwater fishing along its five rivers, the Atlantic Ocean, and acres of saltwater creeks. King mackerel, tarpon, and red drum are abundant in inland waters. And if you're looking to hook a marlin on a deep-sea fishing trip, it's just a short ride out to the Gulf Stream.
Some of the best fishing holes you can find are within casting distance of your Tidelife Vacation Rental, so book a stay with us at a Pawleys Island or Georgetown vacation rental to be close to the action.
Georgetown, for example, has several great places to drop a line, including Winyah Bay, North Inlet, the North, and South Santee rivers, and Bulls Bay. Hook up with a fishing guide to get to the best spots on the rivers, bays, or off-shore.  The rock jetties and the Old Government Public Pier at Murrells Inlet are home to various fish, including flounder, pompano, Spanish mackerel, whiting, black drum, trout, and sheepshead. Crazy Sister Marina next door offers fishing charters and boat rentals.
North Causeway in Pawleys Island
In Pawleys Island, the North Causeway is a popular fishing spot where anglers catch speckled trout, flounder, redfish, and blue craps.  Speaking of those blue crabs, you can drop a basket from crab docks at Morse Park Landing or Veteran's Pier in Murrells Inlet.  Or to try your hand at crabbing with a chicken leg on the end of a line, try the oyster shell recycling area just south of the southern split of U.S. 17 and U.S. 17 Business at Huntington Beach State Park.
Annual Fishing Tournaments 
Waters off the South Carolina coast host top fishing tournaments each year. Upcoming events include the Bassmaster Elite at Winyah Bay, in Georgetown, and South Carolina Governor's Cup Billfishing Series.
In addition, Georgetown is a weigh-in site for the South Carolina Wahoo Challenge, which runs from February through April 27.
Check out this outdoor adventure guide for listings of marinas, boat launches, and charter fishing services.
Fishing is great on the Hammock Coast, whether you go saltwater or freshwater, rivers or creeks, off-shore or in-shore. Come catch dinner with us.