Experience an Outdoor Lover's Dream in Murrells Inlet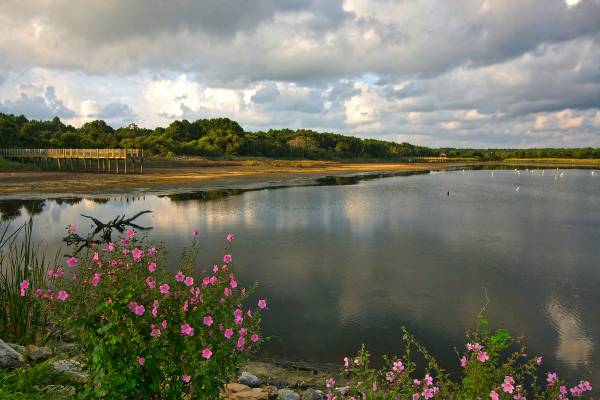 If getting dirty and playing outside is your idea of a fun getaway, then the quaint fishing village of Murrells Inlet is calling your name. The area is abundant in natural resources including access to freshwater and saltwater fishing, winding bike trails, beautiful golfing, and plenty of places to paddle.
Book a Fishing Excursion
Let's start with the fishing. After all, it's called the Seafood Capital of South Carolina for a reason. Book an excursion onboard one of the many charters like Catch 1 Sportfishing, which takes anglers to the best inshore fishing holes from its dock at Drunken Jacks Restaurant. 
Murrells Inlet Fishing Charters has four boats and experienced captains to get you on the fish with a choice of fami-ly-friendly excursions, including inshore backwaters and offshore trips. For a customized, full-service deep sea fish-ing adventure, contact Capt. Jay Sconyers of Aces Up Fishing who has been fishing the waters off Murrells Inlet for more than 30 years.
Explore the 12-mile Bike Path 
If you prefer your adventure on land, bring your bike (or rent one) and hit the Waccamaw Neck Bikeway. The Waccamaw Neck Bikeway is a multi-purpose, flat and paved 12-mile path that runs parallel to U.S. 17 from Mur-rells Inlet to Huntington Beach State Park. The ride, though not yet contiguous, provides Share the Road routes through a maritime forest of pines, oaks, and pristine wetlands.
Hike on the Sandpiper Pond Trail
Pay the entrance fee to check out the Sandpiper Pond Trail to the beach and take time to hike the boardwalks that stretch into the salt marsh and freshwater lagoon. There are plenty of parking lots along the way to make it safe for loading or unloading your bikes.
If you need to rent a bike, contact Woody's Beach Rentals or Inlet Bike Rentals. It's just that easy.
Play Golf in Murrells Inlet
Do you prefer your outdoor fun with fairways and greens? Reserve a tee time at one of the many beautiful golf courses in Murrells Inlet. Blackmoor Golf Course is player-friendly, providing a good pace of play with ample sand traps and lots of water. TPC Myrtle Beach, located at Murrells Inlet, offers a challenging layout that will have you using all the clubs in your bag. And then there's Wachesaw Plantation East, a beautiful course with a traditional Scottish design. 
Create a New Adventure
We have several properties along the Hammock Coast that make the perfect "jumping-off" spot for your adventures. Check out properties like North Litchfield Green, a five-bedroom home near Huntington Beach State Park. Compass Point is a spacious four-bedroom property at Litchfield by the Sea. Litchfield Retreat is two-bedrooms, so it's perfect for a smaller group that will spend most of the weekend outdoors.
We can help make your Hammock Coast getaway a true outdoor adventure! Browse all vacation rentals in Murrells Inlet to start planning your getaway!