Don't Miss These Upcoming Events at Brookgreen Gardens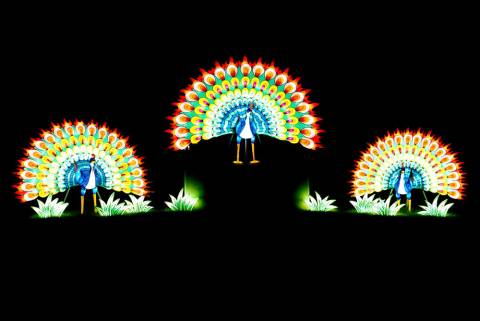 After a couple of months of lying low, it's time to get outside and stretch those legs. Brookgreen Gardens in Mur-rells Inlet is a beautiful spot to do just that. Brookgreen Gardens has plenty of space to roam with a Sculpture Gar-den, Botanical Gardens and Lowcountry Zoo, which are all now open. 
And with things opening back up, a fantastic lineup of events awaits visitors at the site, which blends art, nature and history into a wonderful cultural attraction.
If you're at the beach for the Fourth of July, you're going to want to light things up, right? 
Check out the Bruce Munro exhibit: Southern Light, open Wednesdays through Saturdays from 8 to 11 p.m. now through Sept. 12. The exhibit boasts spectacular, large-scale light sculptures in the garden allowing visitors to, well, see the gardens in a new light. The internationally known artist created seven works of art in light and mixed me-dia, each designed specifically for the natural garden rooms where they are installed. The cost is $25 for adults; $15 for children 4-12.
Do you have youngsters interested in nature? Camp Brookgreen on July 6-12 offers opportunities for second and third graders to take a "Science Safari." Campers will learn through hands-on experiments, STEM challenges and animal encounters during this day-camp. 
Are your kids older? No worries. There's a Camp Brookgreen for fourth through sixth graders as well. On July 13-17, "Game On" camp allows kids to explore art, history and nature through a variety of outdoor games, including a life-size board game in the Children's Garden, an obstacle course to test their animal skills, water games and more. On July 20-24, kids become "Wildlife Warriors" during an adventure camp throughout the zoo and other amazing sites in the Gardens.
Or, sign creative kids up for Art Camp for grades 6-12 on July 27-31 from 10 a.m. to 1 p.m.
Celebrate Brookgreen's 89th Birthday party from 1-4:30 p.m. on July 13 in the Wall Lowcountry Center Auditorium. While there will be cake, this is an otherwise unusual celebration. Visitors are invited to bring family heirlooms, archive materials like photographers, letters and books, antique weapons and other artifacts. Experts will photo-graph them, creating a database and the opportunity to lend them for a future exhibition. Call Robin Salmon at 843-235-6012 to reserve a time. But, please: No human remains, grave goods or looted artifacts.
The Gullah Geechee Program Series is set at 1 p.m. each Wednesday (except July 1) throughout July and August. The entertaining and interactive programs at the Wall Lowcountry Center Auditorium teach visitors about the ar-ea's rich history and culture. Each session lasts a little under an hour and is free with garden admission. There is limited seating and reservations are required by calling 843-235-6049.
While enjoying the gardens - particularly the zoo - visitors are asked to respect one-way paths, keep six feet apart, wear a cloth mask and, as always, respect the animals. Brookgreen Gardens is open daily from 9:30 a.m. to 5 p.m. 
Stay in a nearby vacation rental like North Litchfield Green, a five-bedroom, 5.5-bath oceanfront home. You'll love the view from the large deck with lots of space for relaxing. If you don't need that much space, choose one of our Litchfield Retreat vacation rentals. These two-bedroom, single bath condos sit across the street from the beach, just steps away from the ocean and sand. 
With so many things changing this summer, isn't it nice that some traditions remain the same?  A beach vacation on the South Carolina coast makes a sweet summertime ritual. And we're just a short road trip away!