5 Ways to Ring in the New Year on the Hammock Coast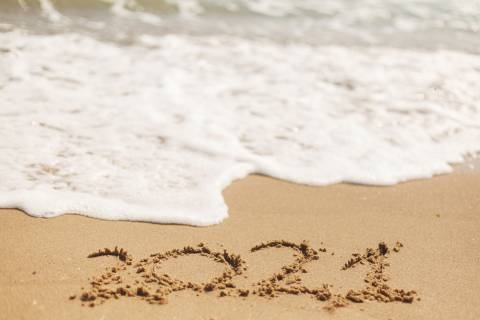 If you're looking to spend a quiet New Year's Eve this year, the coastal communities of South Carolina make the perfect destination. We've got some great ideas on how to welcome 2021.
First, watch a beautiful sunset on the last day of 2020 from a waterfront beach house. Take a walk to Pawleys Island Pier to watch as the sky comes alive with spectacular orange, pink, purple, and blue shades. Waccamaw River makes another serene spot to watch the sunk sink beneath the horizon. What better way to say goodbye to the past? Slowen Down, the five-bedroom home on Pawleys Island, offers a front-row seat to the sunset over Pawleys Creek.
Next, head to Brookgreen Gardens as the sculpture garden opens from 6-9 p.m. for its annual Night of a Thousand Lights event. Tickets are $15-$20. Light refreshments are available for purchase. Stroll the Gardens while enjoying the festive lights and entertainment. If you can't make it New Year's Eve, start your celebration early as the event takes place on Dec. 29-30 as well. The Gardens is limiting entry so that social distancing is enforced. Masks are required indoors and requested outdoors for those over 10. 
Experience a big-time New Year's Eve celebration that includes a ball-drop and fireworks at the Southern Times Square in Valor Park at Market Common in Myrtle Beach. Just a 30-minute drive from Murrells Inlet, Market Common is pulling out all the stops for the celebration, with live music, food and drink vendors and more from 9 p.m. to midnight. Masks are required, as is a ticket, which can be obtained by presenting a receipt totaling $25 or more from any Market Common restaurant or retailer. 
COVID-19 rules require restaurants and bars to close at 11 p.m., so don't expect midnight parties in Murrells Inlet and Pawleys Island. However, restaurants like Wicked Tuna Grille and Sushi Bar at The Marshwalk will be open 'til then so enjoy waterfront dining. Or reserve a table at Frank and Frank's Outback in Pawleys Island, with seating's from 5-8:30 p.m. After a special New Year's Eve dinner, head back to your luxury vacation rental to light sparklers and pop the cork on the champagne to cheer the New Year. 
Get 2021 off to an awesome start by watching a sunrise while on a morning beach walk or from the deck or porch of your vacation home. Enjoy the slow pace of a relaxing holiday at the shore. 
When you are ready to venture out for a New Year's Day brunch, head to a local favorite like the Rustic Table, Chive Blossom or Bistro 217.
We may be biased, but we love celebrating the holidays on the Hammock Coast. We believe you'll love it, too.