5 Spots for a Delish Thanksgiving Dinner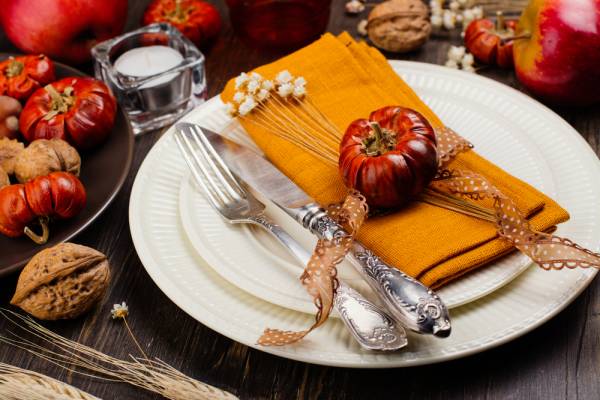 The best thing about taking a holiday vacation is that you don't have to cook. Right? The holidays don't have to be hectic. In fact, the Hammock Coast provides a stress-free, peaceful place to celebrate Thanksgiving this year. 
Of course, you'll want to enjoy gathering around the table for a full-on Thanksgiving-day fare. No worries. Several restaurants are open with menus that reflect seasonal favorites. 
Coastal Dish Lowcountry Dining at Litchfield will be serving a buffet-style dinner from 2-7 p.m. The buffet includes a variety of breads, soups and salads, along with a traditional turkey and all the trimmings. The cost is $24.95 per adult and $12.95 for kids 10 and under. Reservations are accepted and encouraged, by calling 843-235-5516 to make reservations. 
Savor a seafood and traditional Thanksgiving buffet at Wahoo's Fish House, overlooking the waterfront at the Marshwalk in Murrells Inlet. The meal will be served from 11 a.m. to 5 p.m. with roasted or fried turkey, honey baked ham, carved prime rib and roast pork tenderloin with apple chutney. And that's just at the Carving Station. Wahoo's also features seafood faves like fried catch, fried shrimp, baked barbecue salmon and seafood gumbo. Of course, they will offer all the side dishes you love. The cost is $29.95 for adults; $13.95 for children 6-12 and children 5 years and under eat free. While walk-ins are welcome, reservations are preferred. Call 843-651-5800.
Gulfstream Cafe in Garden City makes Thanksgiving easy with its traditional dinner, served from 11 a.m. to 8 p.m. Enjoy oven-roasted turkey breast, sugar cured ham, sweet potato casserole, green beans, honey-butter glazed carrots, mashed potatoes, Southern herb stuffing, giblet gravy, cranberry relish, cornbread muffins and pecan or pumpkin pie. Adults are $22.95 and kids eat for $9.95. Make a reservation by calling 843-651-8808 or click here. 
A local favorite, Hanser House is a family-owned restaurant located in the North Litchfield Beach section of Pawleys Island. Renowned for its home cooking, Hanser House is traditionally open on Thanksgiving Day, serving traditional dishes and some of their specialties. Call 843-235-3021 for reservations.
Of course, another option is to cook up your own Thanksgiving favorites. The 4-bedroom/4.5 bath Steele Oceanfront House offers a gourmet kitchen for preparing those dishes. The 8-bedroom/8.5 bath 24 Dene Court property also features a gourmet kitchen with a Viking range, two Viking refrigerators and two dish    washers. There is plenty of dining space with an island bar that seats eight and a table that seats 10. 
What are you waiting on? Book your stay and make an escape to the coast for a beachin' Thanksgiving stay.